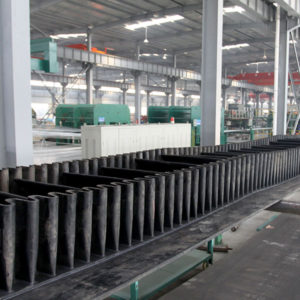 Sidewall conveyor is widely used for the purpose of conveying up to the gradient of 90O(vertical 8plane)in Ceramic Industry, Construction industry, port, metallurgy, mining, electricity, coal, casting, building materials, food, agriculture, Recycling Industry, chemical industry.
Since 1984, Continental Belting Pvt Ltd have been one of the prominent manufacturer of Sidewall Beltings. We have been supplying our Sidewall Belting to our clients in hundreds of cities all over India.
With the vision to be the No. 1 manufacturer of Conveying belts, we are continuously working on the quality of our production. We strictly follow the International standards set up by DIN, BS, AS, SANS, JIS, IS.
In our two factories occupying 1,25,000Sqft the manufacturing of Conveyor beltings is done with CAD (Computer-Aided Design)/CAM (Computer-Aided Manufacturing) to ensure precision in the products and to accomplish the feat of 2500metres production per day.
Continental Belting Pvt Ltd manufacture a wide range of Sidewall Belting up to 1800 mm width if demanded for extensive use.We avail our clients the widest range of sidewall belting. The clients can select belts based on:
Base belt: option vary from medium duty application to heavy vertical lift application ranging from 300 mm to 1800 mm.
Minimum pulley diameter:  size vary from 200 mm to 1600 mm based on strength required.
Selecting the cleat: as per the demand of the client or the application
Continental Belting is an ISO9001 (2015) certifiedcompany and have a list of industrial giants like ACC, Ultratech Cement, Steel Authority of India, Reliance Energy, Godrej, Thermax, Vedanta, UHDE, HCC, Adani, Gujarat Ambuja, JSW Steel, AIS Glass, Saint Gobain and many others as our satisfied customers. Our Sidewall Belting are exporter to more than 45 countries all over the world.
Salient features:
No transfer point as the belt is capable of turning through any angle which eliminates the need to multi drives
Conveyor belts are tested as per DIN & IS1891
Various Models based on the working are available
Quality of raw material:

Black standard High abrasion resistant
High heat resistant up to 150oC

Flame retardant
Black oil and fat resistant
Low maintenance, high capacity