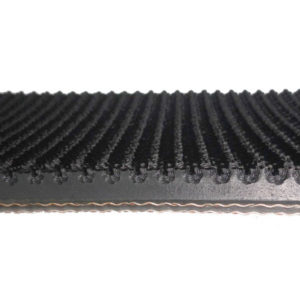 Rough top Conveyor Belting manufactured by Continental Belting Pvt Ltd are available in two as well as three ply construction choices that also feature cut edges as well as carcass of NN/EP fabric which comes with surface texture that aids in resisting the tendency for material to roll back down the conveyor while at transportation stage.
Continental Belting Pvt Ltd is a Maharashtra based ISO9001 (2015) certified company. We are one of the most prominent manufacturer, supplier and exporter of Rough Top Conveyor Belts.
All our conveyor belts are are tested as per DIN & IS1891 and are manufactured as per the standards of DIN, BS, AS, SANS, JIS, IS etc.
Our Rough Top Conveyor Belts are supplied to many well know Industrial giants like exported to more than 45 countries all over the world.
Rough Top Conveyor Belts are used for the application of:
Transporting products like sacks, boxes and parcels.
Transporting belt flight loaders, lorry loaders and other.
Transportation of fragile/deformed materials as well as pack foods like papers, bags, glass boxes as well as cartons to of 35 degrees maximum.
Transportations of light weight goods in either inclined or horizontal.
Salient features:
Available in 2 and 3 ply construction choices
Top covers are made using wear-resistant rubber featuring non-slip surface
Superior surface texture that resists tendency for material roll back down the conveyor
Black top cover recommended for utility type incline service
Special mesh like pattern that aids in generating relief effect
Top cover comprises full 1/8 thick SBR
Back of belt protected through durable friction surface bottom or through synthetic bare-back for slider bed applications
Mollifying as well as absorbing vibrations and impact received on transported materials simultaneously also aiding in prevention of slipping