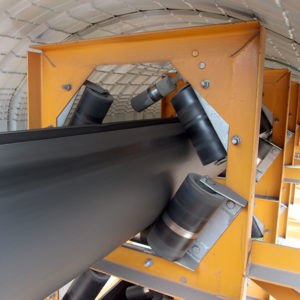 Pipe conveyors are used for the bulk transportation of material over long distances in a protected environment. It is the most ecofriendly method of conveying as it ensure zero spillage. And it is very effective even in the terrain where conventional belts are cannot be used.
Pipe conveyors are similar to a conventional belt conveyor at the material receiving area and discharge area. But the flat belt is slowly shaped to trough belt through transition and carrying idlers. At the end of loading zone, the conveyor belt gradually takes on a pipe formation with the help of variable off set rollers, finger rollers and pipe forming idlers.
Maharashtra based, Continental Belting Pvt Ltd is one of the most prominent and reliable company in India.  All our products are standardized as per DIN, BS, AS, SANS, JIS, IS, etc. and are supplied only after flex and fatigue test.
Pipe Conveyor Belts manufactured at Continental Belting Pvt Ltd are supplied to various cities of India and are even exported to many countries around the world.
Our Pipe Conveyor Belts manufactured at Continental Belting Pvt Ltd have the capacity of transporting:
Tons of Limestone per hour form mines to the cement factory:
Tons of Rock Phosphate per hour
Tons of coal directly from mine to the power plant within hours
Transport coal from Port to their Power Plant in Bulks
Pipe Conveyor Belts Salient features:
Pipe conveyor belting solutions designed to protect conveyed material from external influences including rain & wind
Does not require additional conveyor cover
Allow simultaneous conveying of different materials in vertical as well as horizontal directions
Low power consumption and Low noise emission
Belting solutions designed to protect environment through avoiding spillage of conveyed material
Solutions designed to support movements even in the bottom run where it allows no spillage occurrence as the carry side is inside of tube
Technical Indexes
Pipe dia.
(mm)
Load area
(m2) (75%)
Belt speed
(m/min)
Conveying
Capacity
(m3/hr)
Max. lump
size (mm)
Horizontal
Min. length(M)
Equivalent
Traditional
Conveyor Belt
100
0.006
100
36
30
15
300
150
0.013
120
95
30-50
18
300-450
200
0.024
130
185
50-70
20
500-600
250
0.037
140
310
70-90
23
600-750
300
0.052
150
475
90-100
25
750-900
350
0.072
175
750
100-120
30
900-1050
400
0.095
200
1140
120-150
35
1050-1200
450
0.150
225
2000
150-200
50
1500-1800
500
0.215
250
3200
200-250
50
1500-1800
550
0.285
275
4700
250-300
60
1800-2000
600
0.425
300
7650
300-400
70
2000-2400