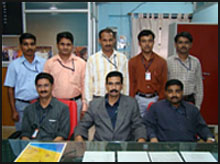 They are our most prized asset and represent the core of what makes CBPL, so unique. Our professional staff has a broad range of backgrounds, formal education and streetwise experience that helps us bring a distinctive approach to the tasks of establishing an appropriate positioning strategy for CBPL.
We strongly believe in fostering, entrepreneurship, and every departmental head and every interpreneur is an entrepreneur in themselves.
All team members regularly sharpen their skills, thanks to various ongoing training programmes, which have helped bring about synergy in the team activities.