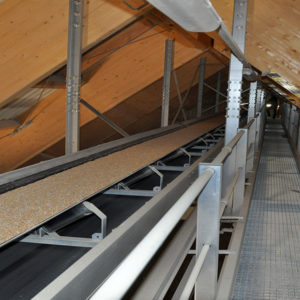 Conveyor belts are highly demanded by the industries for daily transportation of oily materials containing non-polar organic solvents and fuels, food stuff and any the products containing grease or any other lubrication.
And all these oils and greases have a very destructive impact on rubber. Hence, Continental Belting PVT. LTD manufacture variety of  for all these purposes based on the different corrosive nature of the materials.
Continental Belting PVT. LTD have been one of the prominent manufacturer, supplier and exporter of high quality oil resistant conveyor belts. Our clients all over India and to the International Market of the Countries like Iran, Saudi Arabia, UAE, Qatar, Kuwait, Oman, Jordon, Mauritius, and United Kingdom.
Continental Belting has an expertise in manufacturing oil resistant synthetic rubber conveyor belts for superior resistance to damaging effects of Oil contaminated or treated materials. All our products are standardized under the International standards of DIN, BS, AS, SANS, JIS, IS, etc.
Since its establishment in 1984 Continental Belting Pvt Ltd has evolved and prospered with our ever increasing number of satisfied customers. Today we have a group Turnover 134.35Crore and various industrial giants like ACC, Ultratech Cement, Steel Authority of India, Reliance Energy, Godrej, Thermax, Vedanta, UHDE, HCC, Adani, Gujarat Ambuja, JSW Steel, AIS Glass, Saint Gobain etc. as our convinced clients for years.
Oil Resistant Conveyor Belts Salient Features:
Oil Resistant Belts to cater to medium and high oil resistant applications
Use of high quality Oil resistant synthetic rubber for Improved Flex Life
Superior resistance against Petroleum & mineral oils
ISO9001 (2015) certified
Standardized as per the standards of DIN, BS, AS, SANS, JIS, IS, etc.
Pelleted packing facility also available on customization