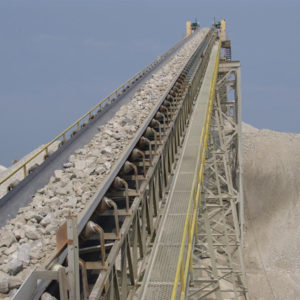 Continental Belting PVT LTD manufacture, supply and export a wide range of general duty Belts as per the industrial requirements and that of our clients. Our General Duty Belts are abrasion resistant and highly resistant to the cuts and gouges. We have been supplying and exporting our ISO9001 (2015) certified General Duty Belts to almost every state of India and over 45 countries since 1984.
Our General Duty Belts have various applications in wide range of Industries like mining industry and process industries such cement(limestone), steel (crushed metallic ores), stone crushing industries (granite & blue metal).Our production is aided with CAD (Computer-Aided Design)/CAM (Computer-Aided Manufacturing) Facility for Proprietary Belt Selection & Simulation.
To meet the International standards such as DIN, BS, AS, SANS, JIS, IS, etc. Continental Belting PVT LTD uses best in the class raw material to manufacture our Belts. Continental Belting PVT LTD has been ET Now Leaders of Tomorrow Awards Nominee.
General Duty Belts Salient Features:
Best in quality raw materials like Industrial fabric and rubber are used in the manufacturing of the Belts to meet quality standards.
The belts undergo Flex test and Fatigue test to ensure the highly resistant to tear and rip resistant for long service life even under heavy duty applications.
Special Steel wefts with high elongation and tensile strength properties.
Superior Fastener-holding ability.
General Duty Belts Characteristics and Application:
GRADE M-24

Recommended for conveying heavy, sharp as well as highly abrasive materials
These may include products like granite, metallic ores, lime stone, clinker, coal, Blast furnace slag and others
IS 1891 PART-I BS 490 PART-I ISO 4195/1 DIN 22102 compliant

GRADE M-24

This grade is suitable for arduous applications
These also have superior wear resistance properties

GRADE N-17

Recommended for meeting the conveying requirements of less severe as well as moderately abrasive materials
These may include ash, chalk, sized coal, bauxite
IS 1891 PART-I BS 490 PART-I ISO 4195/1 DIN 22102 compliant
COVER GRADE CHARACTERISTICS AND APPLICATION
PHYSICAL PROPERTIES
General Purpose Belting
Standard
Before Ageing
After Ageing
Tensile Strength MPa
Elongation %
Temperature of Ageing �C
Duration of Ageing hours
Change in Tensile Strength %
Change in Elongation %
Maximum Abrasion Loss Mm3
GRADE M-24
This Grade is recommended for conveying heavy, sharp, highly abrasive materials like metallic ores, granite, lime stone, coal, Blast furnace slag & clinker etc.
IS 1891 PART-I BS 490 PART-I ISO 4195/1 DIN 22102
24
450
70
72
+10-20
+10-25
150
GRADE N-17
Recommended for conveying less severe and moderately abrasive material like sized coal, ash, chalk, bauxite etc.
IS 1891 PART-I BS 490 PART-I ISO 4195/1 DIN 22102
17
400
70
72
+10-20
+10-25
150
GRADE N-17 SYNTHETIC
Composed of Synthetic Rubber mainly, this grade is suitable for arduous application as M-24 and has similar wear resistance properties.
IS 1891 PART-I
17
400
70
72
+10-20
+10-25
150
HEAT RESISTANT BELTING
International Grades & Standards
Standard & Grade
Minimum Tensile Strength (Mpa)
Minimum Elongation at Break (%)
Maximum Abrasion Loss (mm3)
DIN-X
25
450
120
AS-M
24
450
125
IS -M24
24
450
150
BS -M24
24
450
150
SANS – M
24
450
120
SANS-N
20
400
150
DIN-Y
20
400
150
AS-N
17
400
200
1S-N17
17
400
200
BS-N17
17
400
150
RMA 1
17
450
150
JIS -S
18
400
200