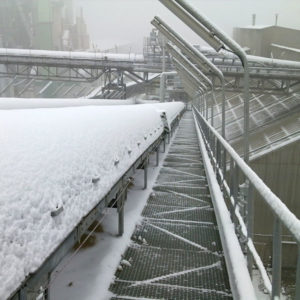 For the application of conveying of the substances at sub-zero temperature is a very difficult purpose. And it is made accessible by the Cold Resistant Conveying Belts manufactured by Continental Belting Pvt Ltd. When the ambient temperature falls below 0oc rubber begins to lose its elasticity, its property to resist abrasion, impact and cutting and even the rubber in the carcass begin to crack.
The purpose of Cold Resistant Belts is to make conveying of materials economically feasible outdoor in the freezing areas and inside the cold storage.
Since 1984 Continental Belting have been supplying its world-class Cold Resistant Conveyor Belts to our clients all over India. Our conveying belts are the exporter to more than 45 countries like Iran, Saudi Arabia, UAE, Qatar, Kuwait, Oman, Jordon, Mauritius, United Kingdom, Egypt, Nigeria, South Africa, Oman, Tanzania, DR Congo, Kenya, Muscat and many more.
Cold Resistant Belts Salient Features:
Available on basis of Cold-proof performance:

S1 (-45oC ~ 50oC)
S2 (-60oC ~ 50oC)

The cover rubber can comprise combination of 3-polybutadiene Rubber (BR) and Natural Rubber (NR) for highest elasticity at lowest temperature.
Available in different belt carcass including Cotton canvas, Nylon canvas or Polyester canvas.
Crack and abrasion free
DIN, BS, AS, SANS, JIS, IS, Standardized for quality assurance
Suitable for the temperature even under -400C
Conveyor belts are tested as per DIN & IS1891
Cover Physical Property Indexes
Item
Index
H
D
L
Tensile Strength / Mpa ≤
24
18
15
Breaking Elongation / % ≤
450
400
350
Ageing experiment (70oC, 7d)
Change rate of tensile strength / %
±25
±25
±25
Change rate of breaking elongation / %
±25
±25
±25
Abrasion / mm3 ≥
120
100
250
Cold resistant coefficient at elongate ≤
C1(-45oC)
0.3
C2(-50oC)
0.2
Note:
C1– temperature condition is -45oC~+50oC;
C2– temperature condition is -60oC~+50oC